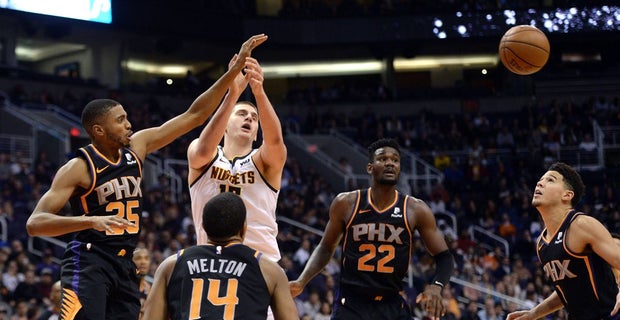 In Milwaukee on Saturday, the Bucks defeated the Brooklyn Nets, 129-115
Donte DiVincenzo did not earn any run for the Bucks.  Though his trip to the "G" League was a short one, he is struggling to get playing time of late.
He is averaging 16.1 MPG, 5 PPG, 2.5 RPG, and 1.2 APG while shooting 39.3% FG, 24.6% 3PFG, and 81.8% FT.  HIs shooting percentages from the floor aren't going to get it done.
Meanwhile, in Atlanta, the Hawks grabbed a 111-108 win over the Cleveland Cavaliers.
Omari Spellman was a DNP for the Hawks again.  Spellman is battling injury issues.
Spellman is averaging 17.7 MPG, 6.2 PPG, 4.3 RPG, and 1.0 APG while shooting 38.8% FG, 32.3% 3PFG, and 76.7% FT.
The Denver Nuggets made the trip to Phoenix and secured a 122-118 victory over the Suns.
Mikal Bridges had an excellent game for the Suns. He earned 38 minutes of playing time in a starting role and scored 17 points on 5-8 field goals, 5-8 three-point field goals and 2-2 free throws. Bridges also contributed two defensive rebounds, three assists, one steal and one blocked shot while committing only one turnover. His final plus/minus tally was a -9.
Great three in transition for Bridges here:
SHOOT YOUR SHOT MIKAL ?? pic.twitter.com/00faW5jhla


— Phoenix Suns (@Suns) December 30, 2018
Mikal's blocked shot was this gem:
N O P E pic.twitter.com/9EgvgaRqfo


— Phoenix Suns (@Suns) December 30, 2018
Spot-up trey from the right side for Bridges:
.@mikal_bridges threes as smooth as butter! pic.twitter.com/4GakouEqMq


— Phoenix Suns (@Suns) December 30, 2018
At the Staples Center in Los Angeles, the San Antonio Spurs defeated the Los Angeles Clippers by a final score of 122-111.
Dante Cunningham played one minute for the Spurs off the bench. It was a busy minute that included a miss three-point shot attempt, a defensive rebound, a turnover and a final plus/minus of -3.
Here is the schedule of NBA games on Sunday, December 30th that feature Villanova Wildcat legends – the Arcidiacono versus Lowry match-up should be the most interesting game of the day from a Villanova fan perspective:
6:00 PM ET
TSN, NBC SPORTS CHICAGO, TSN, SPORTSNET 590 THE FAN, WSCR-AM 670
Chicago Bulls (Ryan Arcidiacono) at Toronto Raptors (Kyle Lowry)
Scotiabank Arena, Toronto, ON
7:00 PM ET
FOX SPORTS SOUTHWEST – DALLAS, FOX SPORTS OKLAHOMA, WWLS 98.1FM OKC
Oklahoma City Thunder at Dallas Mavericks (Jalen Brunson)
American Airlines Center, Dallas, TX
9:30 PM ET
SPECTRUM SPORTSNET, NBC SPORTS CALIFORNIA, SN1, 710 AM ESPN / 1330 AM ESPN DEPORTES
Sacramento Kings at Los Angeles Lakers (Josh Hart)
Staples Center, Los Angeles, CA
For breaking news and notes on everything Villanova basketball, Villanova football and Villanova athletics:
SIGN UP for the FREE VUSports Newsletter
For the best inside Villanova basketball, football and sports info and for the best Villanova basketball and football recruiting coverage in the galaxy:
SUBSCRIBE to VUSports for Insider Info on everything Villanova Sports: CLICK HERE